Geometry Expressions 2
An Interactive Symbolic Geometry Companion to Mathematica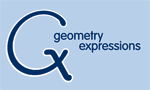 Geometry Expressions is the world's first interactive symbolic geometry system. Geometric figures can be defined by either symbolic constraints or numeric locations. Measurements on your drawing are not only presented numerically, but also expressed symbolically as mathematical expressions that can be sent to Mathematica via MathLink for analysis. Where Mathematica can be used to automate the analysis of mathematical expressions, Geometry Expressions automates the creation of symbolic expressions in the geometry arena.

Key Features
Constraint-based symbolic geometry
Sketch-based user interface
Full animation
Locus and envelope computation
Symbolic computation of parameters such as distance, angle, area, coordinates, slope, and radius
Symbolic computation of implicit and explicit equations for loci
Native Mathematica and MathML export capabilities
The package comes with electronic documentation in both PDF and Mathematica Help Browser formats.

About the Developer
Saltire Software was founded in 1989 as a spin-off from Tektronix Computer Research Lab. Its award-winning Analytix product line features constraint-based mechanism design, synthesis, and analysis. Saltire has since developed mathematical software for leading calculator companies, and a category-leading optimization package for the floor-covering industry.

Product Support
Geometry Expressions is developed and supported by Saltire Software.
Saltire Software
PO Box 1565
Beaverton, Oregon 97057
USA
email: info@geometryexpressions.com

---
Geometry Expressions 2 is available for Windows and requires Mathematica 6, 7, or 8.

Geometry Expressions is © 2010 Saltire Software.

Note: Contact the developer for trial information.